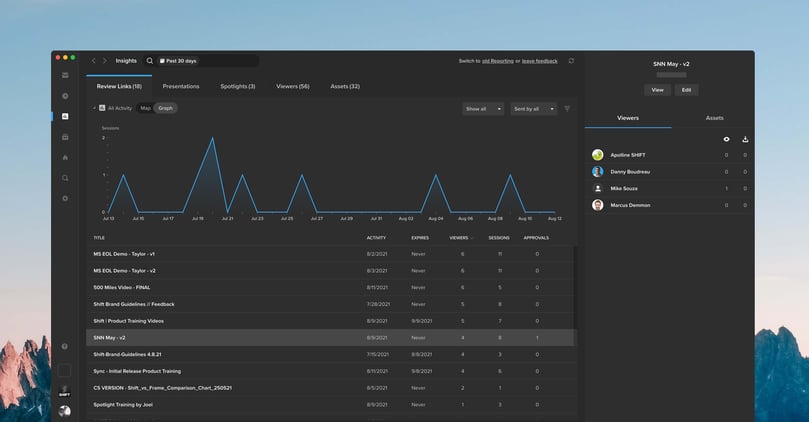 At Shift, we are committed to helping you create, collaborate on, and beautifully present your best creative work. But your films, videos, ad creative, and pitch decks only have impact when you have an audience to view them. So, understanding who that audience is (and what they are engaging with) is half of the battle. That's why we are launching Insights, an improved all-in-one reporting dashboard to help you measure value, track consumption, and calculate ROI for all of your creative content.
Understanding viewership trends on your content can be a real hassle for your production, sales, or content security teams. Data can be granular or disparate, and doesn't always paint the full picture of your audience and their content consumption. With Insights, you can fully customize your individual account data to quickly find what you need. Drill down into trends on what's most-watched, or filter by user, asset, or presentation to get the whole picture. And don't forget about security — Insights gives you peace of mind when sharing content that is for your team's eyes only.


Insights for Every Team
No matter what kind of team you work on, Insights puts powerful tools right at your fingertips to track, understand, and act on your content's performance.
View our full video tutorial library here!
Sales and Marketing
Educate, iterate, and win business
Delve into your content's viewership to see what is resonating with your audience, and help enlighten your team on how to focus new business efforts. Keep track of prospects and their attention, and connect with potential buyers when they are most engaged to help close new deals. Use viewer-level reporting to improve your sales pitch in real-time by monitoring viewer consumption habits and putting your best content at the forefront.

Content Production
Engage, track, and collaborate
Track team viewership to develop a deeper understanding of internal engagement with your content across the production lifecycle, and use that understanding to adapt your workflows. Hold your team accountable for their work-in-progress timelines, whether they're sitting in the office with you or working across the globe. Waiting for feedback from colleagues or collaborators? Use Insights to discover who is reviewing which assets, and who might need a reminder.
Security
Understand, optimize, and evolve
Use Insights data to strengthen your security game plan by confirming that your content stays in the hands of the intended audience. Visualize viewer habits and engagement by tracking how they browse, and pinpointing specific viewer locations on an interactive map. Seeing content behavior that you don't like? Pivot your security on the fly by editing expiration dates, password protection, or presentation and link settings in the dashboard.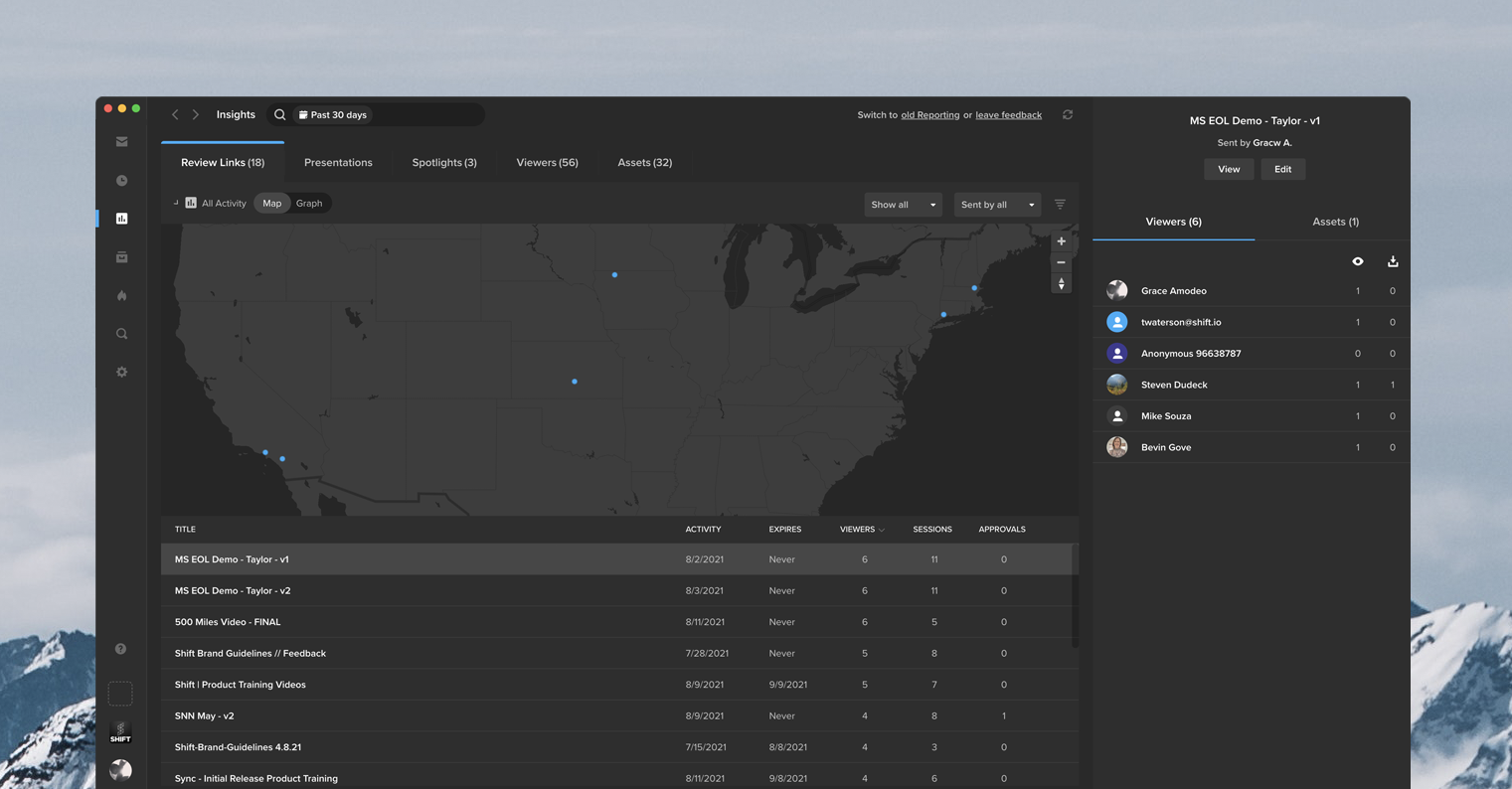 You work hard to make the best creative content possible for your customers, clients, and audience to enjoy. Every word, image, and frame has been carefully crafted to be impactful and engaging, so why would you depend on your "best guess" as to what will strike a chord with your viewers?
When it comes to your content, don't guess. Drive an intelligent content strategy with Insights.
Want to check out our new asset-based commenting features? Click here!
Grace Amodeo is a Content Marketing Manager at Shift, where she oversees the annual Shift Creative Fund grant program. She is a graduate of Emerson College, where she studied film with a concentration in directing narrative fiction. Grace lives in Los Angeles.