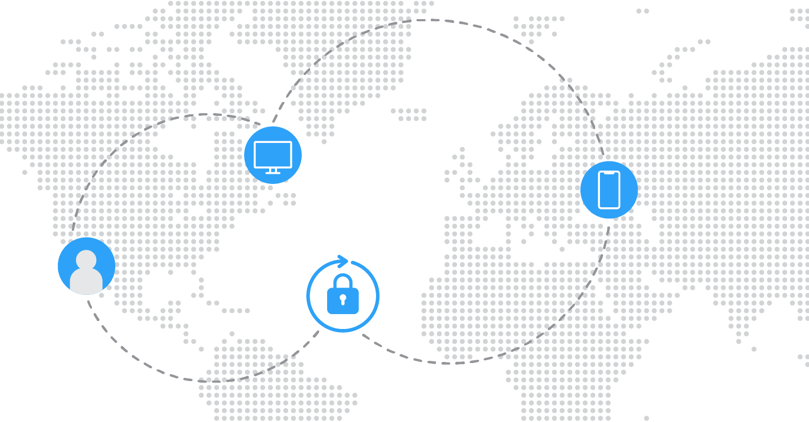 It's been over a year since the beginning of COVID-19, and many companies have embraced a continued work-from-home employee culture. Digital platforms have become critical in ensuring businesses can proceed as close to normal as possible, with cybersecurity typically a non-negotiable factor as part of the evaluation process.
Keeping your content safe — whether it's film dailies, a recording of a confidential meeting, or a gated webinar — has long been core to Shift's products and services as a company. Whether you find yourself back in the office or still working from home, we offer ways to keep your valuable content safe and secure. It's why countless professionals across various industries, including media, entertainment, advertising, tech, medicine, and more, trust Shift for their remote workflows.
Whether you're unfamiliar with the Shift platform or a user who's been with us for years, this list of security-based best practices is for you. Read on to learn about the features in Shift that make working remotely with your team easy and cyber-safe.
1.) Customize user access with Project-level and workspace permissions
Almost every production team works with freelancers, contractors, and vendors who have different needs than internal employees. Often, security can be a factor while considering what kind of access should be granted to those external partners, while ensuring their needs are met at the same time.
We have the solution. Shift offers multi-level user access and role-based permissions that can be managed in a simple-to-use interface. Choose which users have access to which projects, and who can create their own, with User Types. Specify which permissions users have and don't have within a Project with User Roles. User Roles can be customized to your liking; make your own rules to specify which groups of users can edit, upload, download, and/or share content on a per-project basis.
The beauty of Shift's tiered permission structure is that it is versatile. Tailor it to the size of your organization and make it as simple, or complex, as your team needs.
Say that you are working with an independent production team who needs access to one of your Shift Projects to upload cuts for your approval, and another Project to share content with their VFX team. You could add those team members on the first project with upload-only access and the second with share-only access — granting them the permissions that they need to do their jobs while still keeping your workspace secure.
The beauty of Shift's tiered permission structure is that it is versatile. Tailor it to the size of your organization and make it as simple, or complex, as your team needs. To get started, open up the Shift Admin Panel (available only to Shift Administrators) and navigate to the tabs for Users and Roles. View this support article for more information.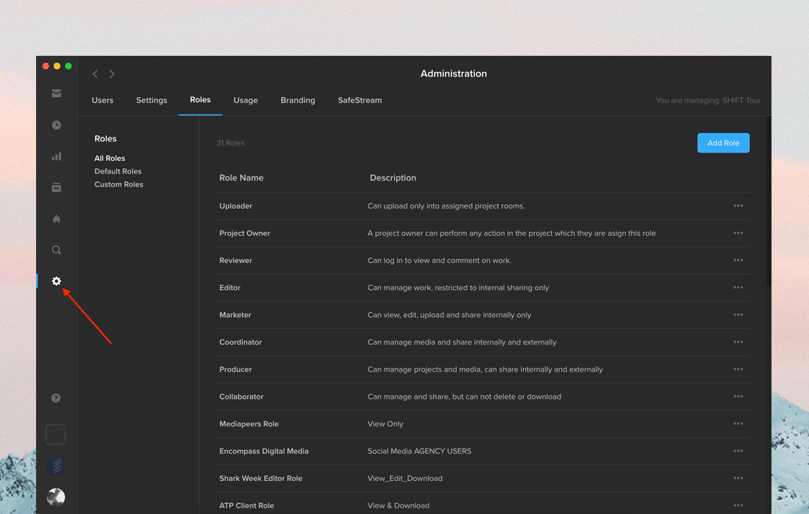 2.

) Gate externally-shared content with private and semi-private links
When sending content externally to teammates or vendors, the most secure way to share with Shift is to send a private link. Private links require your recipients to first verify themselves as users associated with your Shift workspace before they can access your content. They're available for any type of share within Shift, whether it's a Review Link, Presentation, or Spotlight, and are a straightforward solution for when you want to present your work in a simple, yet secure, URL.
If sending a private link isn't feasible — in a case where you aren't able to add your link recipient as a user, for example — try one of the following security-centric settings available for all public links:
Disable downloads by toggling off the "Allow Download" setting.

Set expiration dates when sending links, or manually deactivate them after they've served their purpose. A link is inaccessible once it expires, but you can still re-activate it down the road if you need to.


Choose the "Public Link with Password" sharing option. While this method is not as secure as a fully private link, it can still deter unauthorized access. As a precaution, we recommend sharing the password via a text, phone call, or separate email without the link to avoid the possibility of your recipients forwarding it along.
3.) Protect against content theft and misuse with SafeStream
SafeStream, Shift's unique on-demand watermarking technology, offers instant visual and forensic watermarking that can be burned into any type of video file.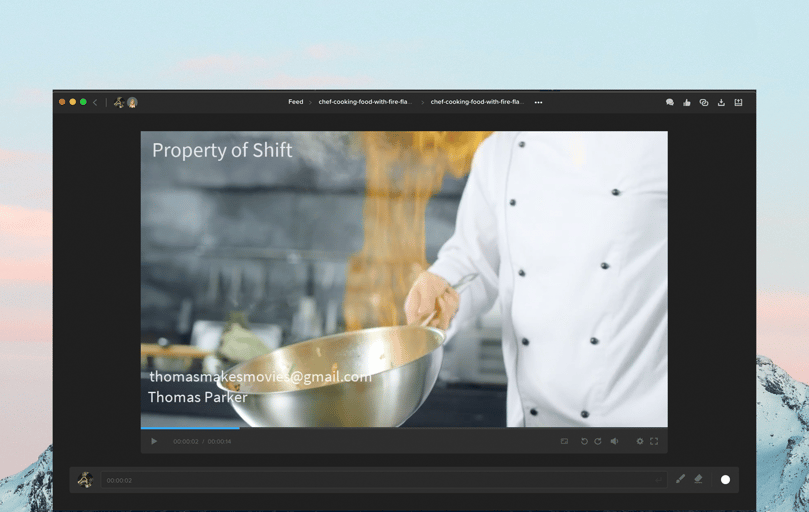 A visible watermark provides a unique, traceable visual deterrent that causes viewers to rethink any ideas they may have about sharing valuable, confidential content. A combination of the viewer's full name, email address, and custom text such as "Property of Shift" can be customized, saved as a template, and used across an account workspace.
The technology ensures a secure yet uninterrupted experience to viewers while making it much easier to trace a leak back to its source.
A forensic (invisible) watermark is a set of unique, invisible characters digitally embedded onto a video to identify its origin. Forensic watermarks can be used either on their own or with visual watermarks for an extra layer of protection. The technology ensures a secure yet uninterrupted experience to viewers while making it much easier to trace a leak back to its source.
SafeStream watermarking can be enforced in Shift on a Project or Admin level to mandate its high level of security. With its ability to create real-time, personalized watermarks unique to each viewer without any heavy-lifting on the sender's side, using SafeStream is a no-brainer when it comes to sharing the content that you value the most.
Learn more by viewing this short demo or reading our support article. SafeStream is an add-on service available to all Shift customers. If you don't have SafeStream in Shift yet and would like to set up a free trial, reach out to our Sales Team at sales@shift.io to get started.
4.) Log in securely with Multi-Factor Authentication
Enable Multi-Factor Authentication (MFA) to add an additional layer of security to your user account or workspace. Available for all workspaces that aren't already protected with SSO, MFA helps to confirm user identities and is extremely easy to implement.
Users can set up MFA individually with a simple 2-step process in their User Profiles. Looking to kick it up a notch? Shift Administrators can enforce workspace level MFA, which will require all users to enable it before they can re-access their account.
We recommend that all workspace owners with sensitive content enable MFA for their users. For more information, take a look at our support articles for User MFA and Workspace-Level MFA.
When working with sensitive content, your business needs clarity on the activity that is happening inside your Shift workspace.
5.) Track and control content activity
When working with sensitive content, your business needs clarity on the activity that is happening inside your Shift workspace. The Shift Reporting Panel is here to help.
Use Reporting to access a comprehensive list of all the links you or any member of your team has ever created, as well as granular activity data. Track the number of views and downloads on each of your shared files, and identify who is viewing your content, and when. Pinpoint where your viewers are located with a geolocation map, and in the worst-case scenario, track down the origin of a leak with the culprit's IP address. Here, you can also add or delete content to your active links, adjust their accessibility settings, or expire them at any time.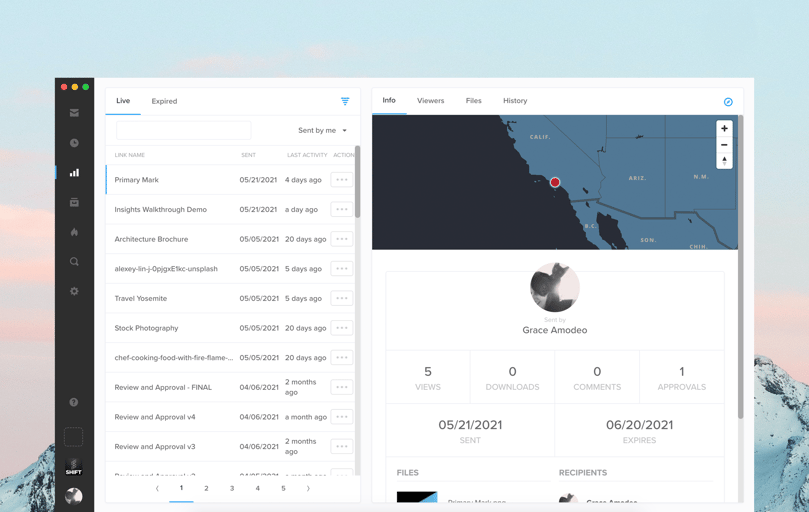 Reporting is your real-time audit trail for all the work-in-progress content you're sharing, whether you're at the office or working off-site. You can find more information on Reporting here.
Conclusion
We've all had to learn to be flexible this past year, which means our workflows may not look the same as they used to. Even though our day-to-day work looks different, it doesn't mean it's less effective. Working alongside your team, collaborating with your colleagues, and quickly approving and finalizing your projects is just as easy and safe now as it was before, thanks to Shift's workflows. Shift offers a secure, easy-to-use platform for remote work both in times of crisis and when we, together, return to more stable lives and working conditions.
Get started with a free 14-day trial of Shift today.
Julie Neumeister is a Customer Marketing Manager at Shift and a true advocate for great customer experiences. Having worked closely with clients at the company since 2017, she has an extensive knowledge of use cases and workflows tied to Shift's portfolio of products. Julie also brings a strong technical background working with a variety of software products before joining Shift and holds a B.S. from California State University, Chico.